​
Looking for some unique ways to celebrate mom this year? We have 5 ideas that will get you thinking about putting a little spin on some of the traditional ways we can make her day extra special. We even have a fun freebie to print from home. Add the freebie to a basket filled with a new cook book, some items she might need to make a new and easy recipe and some personalized gifts like a cute tea towel or apron with her name on them.
1. A Mother's Day Book Club
This Mother's Day ask mom what book she would love to read. Get everyone in the family to read the book ahead of time with her. On Mother's Day create some charcuterie trays, get her favorite drinks, coffees, or teas. Create a meal around the book perhaps (think where the book takes place for instance). Print up some discussion questions and start discussing the book together. Give everyone a nice bookmark as a favor.
​
Don't have older kids? Do a read-aloud of Mom's favorite childhood favorites.
​
2. Craft a Playlist
Create a playlist of Mom's favorite songs or songs about Moms. After dinner is served be mom's D.J. for the night. You could also create the playlist and give her the link so she can listen to the songs while she drives to work. You can play the playlist while dinner is being served. How about a game of "Name that Tune". Play a couple seconds of a song and see who can guess what's being played. Why not play the music and hold a dance party in your living room!
3. A Make and Mocktails
Grab some art supplies at your local Dollar Tree. Canvas, paint trays, paints, and brushes make a great gift. Why not buy some of the Dollar Tree's wooden pieces and look up some DIY ideas on YouTube. So many influencers create things from the Dollar Tree that are simple and easy to do. You can watch the YouTube channel and create with mom. The Dollar Tree or your local Michael's Craft Store even have premade craft kits you can use. Pick a couple of them out and all the things you will need to assemble them.
Now, for the fun part! Create a Mother's Day Mocktail to go along with the crafting night you have gifted her. Here's some fun ones you can try.
​
​
4. Picnic and A Scavenger Hunt
A Tricked out Picnic Basket just for her and all of her favorite foods will make this a day to remember. Buy a soft picnic blanket and find a park nearby to enjoy the afternoon. Don't forget all the picnic supplies and mother's day paper products to dress up the picnic table and decorate. Play some games at the table (here's our Mother's Day Game Pack) and then take her on a nature scavenger hunt!
​
Can't leave home? Have a Picnic in the backyard and then take her on a neighborhood scavenger hunt. We have both scavenger hunts already made for you. Both of them also have clues for preschool age children just in case.
5. Mom's A Superhero
Start a new tradition this year by creating a family comic book. Purchase our Make Your Own Comic Book on Amazon or Print the Comic Book Sheets in our Etsy Shop and assemble your book on your own in a binder. Then think of an event, celebration, or something funny that happened this past year, and illustrate it with markers, crayons, or paints. Be sure to include dialogue, a date, and a title, such as "Life with Mom." Older children can help with the drawing and writing, while younger kids can dictate their thoughts or help color. Save your comic book, and create another one next year and others in years to come. These books will be fun to look at for many years!
​
​
BONUS IDEA IN OUR SHOP!
Purchase our other Mother's Day Scavenger Hunts that come complete with coupons, gift ideas and chore charts to get those chores done so mom doesn't have to! Click Here for all the fun you print from home. We even included a Card for mom in one of our Scavenger Hunts! Sometimes we need last minute ideas and this is a terrific solution.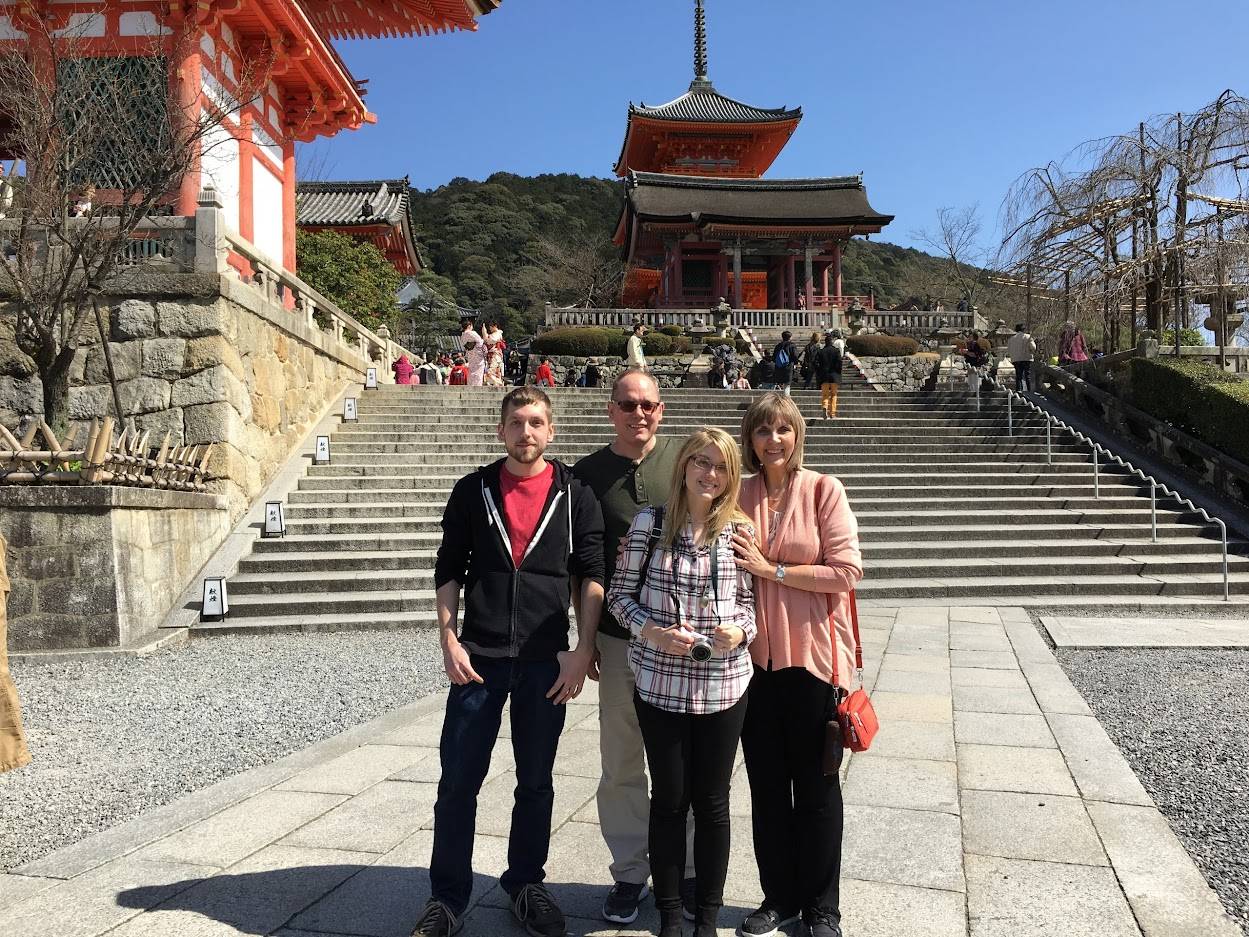 Here I am in Japan with my family and my twins Adam and Kelly. They are my pride and joy. This was taken a few years back when we had the chance to visit our daughter there during the cherry blossom season. Japan is a magnificent place. Full of color, friendly people, amazing food and so much to see! Our daughter still lives there and is married now. I miss her every day. Our son lives nearby us in Michigan. I love being a mom and have experienced so much through my children's eyes. I am so grateful.
​
HAPPY MOTHER'S DAY TO ALL THE SUPER MOMS WE KNOW AND LOVE!
​
We are creating new party supplies and invites that you can edit yourself! Using Canva for FREE! you can edit all our templates where the Canva Logo is listed on an item in our shop. So far we have Candy Bar Wraps, a new Glamping Welcome Birthday Sign, Glamping Milestone Sign, Glamping Time Capsule and a Gnome Birthday Invite as well as our "You've Been Egged" Game and our Easter Bunny Time Capsule Sign and Matching Notecard. These things also pair nicely with our games, scavenger hunts and more! We even have a demo for you to try in our descriptions for these items so you can try Canva out before you purchase. We are so excited to continue adding more items each day. Message us if you would love to see something.
​
THIS MONTH'S FREEBIE!
Here's a little something to gift mom with. Recipe cards just for her. Color them yourself or leave them for her to color and give her a nice new box of colored pencils. Purchase a beautiful

recipe box personalized with her name here

. You could also wrap the cards in ribbon and put them in a nice basket filled with kitchen items just for her. Read our first idea at the top of this blog.
​
​
Did you like our April 5 Ideas? Each Month we will be updating them and letting you know once you subscribe! We will have a Freebie, Upcoming Sales, New Product Updates and so much more for you and your family. Our 5 Ideas will include things for your parties, family game night, holidays and more. Don't forget to follow us on all of our social media at Grinandprint and Favorite our shop at Grinandprint on Etsy.
​